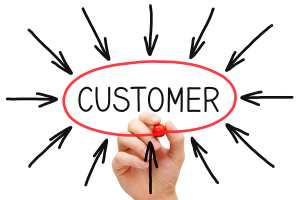 We are regular readers of Nigel Fenwick's Forrester Research blog, and thought his post Why Customer Experience Will Become The #1 CIO Priority, might be of interest to many. Fenwick makes the compelling case that this is "The Age of the Customer" where "technology shapes every touch point, either directly through the customer using technology at the touch point – such as online bookings for airlines – or indirectly in supporting employees engaging with the customer – such as technology like product locators retail store employees use to help a customer move to the next stage on their own journey."
Fenwick's work with Forrester shows that in winning customer experience companies, it is the IT organization more than any other internal team that has the most significant role in designing and creating powerful customer (user) experiences.
Leading the Way
As noted in the Forrester research, leading IT organizations examine the people, process and technology behind every step along each customer journey. It's critical to identify the systems, applications and data that support the journey – optimizing each journey to deliver a satisfying or even amazing customer experience.
For the IT organization, the focus is to build and maintain the best customer experiences considering all the levels of customer (user) interaction on multiple devices, applications, or networks.
UX Research as the Pivot Point
Taking the time to test and develop an outstanding user experience (UX) is emerging as the critical pivot point in customer experience.   Customers have plenty of choices, and have little tolerance for an unsatisfactory experience. The overall goal of user research is to make sure products and applications are the most satisfying choice they have.
Thus when we consider Fenwick's blog post it is clear that user research needs to find a home within the IT organization. It's thinking from the outside-in – first learning what best serves the customer – then incorporating those findings into the design.
Making Customer Experience a Priority
Why should the IT team keep user research front and center as they navigate through "The Age of the Customer" where customer experience is the main priority?
Listed here are just a few compelling reasons:
User research takes the guesswork out of understanding what best serves customer needs.
User research provides hard evidence about how people interact with technology and products: it informs design decisions, prevents costly mistakes and helps with conversion and retention.
A core qualitative research methodology, usability testing, measures the quality of a user's experience by integrating human factors and communication; it can help IT teams deliver experiences that satisfy customers (not just development teams) and keep them coming back.
When IT teams deploy a user-centered design (UCD) process incorporating customer insights into the application development cycle, they position themselves for developing satisfying or amazing customer experiences – it's thinking from the outside-in
For Further Reading
The Forrester research reminds us once again that companies can lose traction, and business, if they miss integrating the significance of customer experience into their product development and IT strategies.
Learn more about how TecEd is dedicated to the user experience of the customer journey, and how we can help improve customer/user satisfaction.  TecEd's experienced research team and UI designers apply user experience best practices to support IT teams that have made customer satisfaction a business priority.