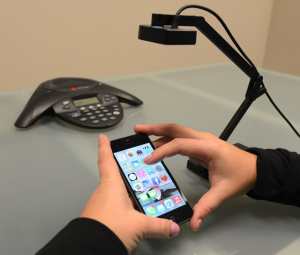 Mobile usability is a business imperative for websites and applications. To meet your strategic goal of providing a great user experience on mobile devices, turn to TecEd for a usability study that includes smartphones, tablets, or both. The study may even ask participants to use a desktop or laptop computer as well, which can help determine if and where improvements in mobile responsiveness must be made. We can recruit participants with a mix of iOS, Android, Windows, and/or BlackBerry devices—whatever matches your user profiles.
Goals of Mobile Usability Studies
A typical mobile usability study gains a better understanding of the experience of target users visiting a site or using an application on mobile devices and/or desktop/laptop computers to inform design decisions. This kind of usability research can answer questions such as:
When do users choose to use a computer, tablet, or smartphone to access the web? What are they looking for or trying to do? Where are they? How much time do they have for the task?
How do users react to the pages viewed on multiple devices? To what extent is the experience equally appealing across devices?
In what situations would they use different devices to access the site or app?
Research results help you understand where the site or app design has been successful, what areas need improvement, and what content target users are looking for. You can use this information to make improvements and deliver a more intuitive, web-responsive design that works across multiple platforms.
Mobile Device Testing in Our Lab
TecEd's usability lab is equipped for mobile device testing. One video camera is mounted on a stand directly above each device; the participant holds the device comfortably within a marked-off area. A separate camera captures the participant's face. The facilitator watches the device screen using a video camera feed on a monitor nearby.
Your stakeholders can watch sessions and work comfortably from an adjoining room, which includes a real-time display of the mobile device screen and the participant's face. The observation room seats up to six people and provides wireless Internet so observers can stay productive between sessions.
Alternatively, stakeholders can observe sessions from their own offices in real time over WebEx, or view recordings after sessions are completed. TecEd's picture-in-picture recordings capture the device screen and participant actions as they use the mobile web or app on their device.