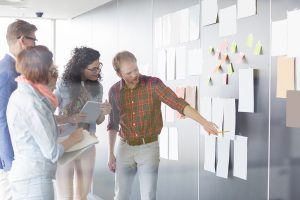 Advantages of User Centered Design (UCD)
User centered design (UCD) contributes to successful creation of products, applications, and websites. UCD can pen channels for effective cross-departmental communication and teamwork—UCD methods require members from all departments and domains within an organization to act as stakeholders, share insights and ideas, understand new points of view, and respect strengths and constraints of other team members.   UCD can also:
Ensure better definition of requirements—Engagement with users from initial concept through release prevents designers and developers from overlooking or misinterpreting critical requirements.
Reduce development costs—Development efforts miss the mark when real user needs have not been identified, interviewed, and observed. Learning what users need and how they work speeds design decision-making, prevents false starts, and minimizes costly redesigns.
Contain support costs—Intuitive applications, with accessible documentation, that meet users' needs reduce the number, length, and severity of customer support calls.
Improve user satisfaction—Users achieving their goals have a positive experience they seek to repeat and share.
Provide a competitive advantage— User satisfaction, a prime component of brand recognition and loyalty, encourages customers to try new products with the same brand.
UCD and the Phases of Design
The development cycle for any product, application, or website consists of several distinct phases. Each phase has corresponding user research practices that inform the design and UCD activities that generate the design. TecEd views these design phases as:
Concept Phase: Explore opportunities and unmet user needs
Current processes and shortcomings of those processes
Overt and unstated user goals and objectives
Opinions about competitive products and services
Requirements Phase: Identify a comprehensive list of requirements
Workflows comprising key tasks, daily tasks, rarely performed but necessary tasks
Task contexts, constraints, safety issues, required knowledge and skills, and attitudes towards tasks
"Nice-to-have" features and functions
User environments (physical, organizational, social, and so forth)
Initial Design Phase: Sketch and test design ideas that capture identified user requirements and business goals
Information structures and product views
Task flows
Features to support task completion (such as navigation elements)
Labels
Outputs or results
User assistance
Design Refinement Phase: Finalize and test the design to ensure it will meet or exceed acceptance criteria when measured according to agreed-on metrics.
User acceptance of key product elements and functions
Task success or failure
Post-Release Phase: Identify features and usability issues to be addressed in the next version
Real-time product use statistics
New or unpredicted patterns of product use
Improvements or enhancements for future releases
Needs or desires for new or related products
Each phase of user centered design may comprise different activities depending on the application, website, or product under consideration. TecEd tailors its design process to your needs, choosing those activities that best deliver the results you need within your budget. The design activities are listed in the UCD Design Activities table below. The associated user research activities are listed in the UCD and User Research table also below.
Table 1: UCD Design Activities: The Design Phases in which to Apply Specific UCD Activities
| UCD Activity | UCD Deliverable | Concept | Requirements | Initial Design | Design Refinement | Post-Release |
| --- | --- | --- | --- | --- | --- | --- |
| Requirements Gathering | Requirements Document | X | X | | | X |
| | Participatory Design Workshops | X | X | | | X |
| User Modeling | Personas | X | X | | | X |
| | Storyboard | X | X | | | X |
| Information Architecture | Task Analysis | X | X | | | X |
| | UX Content Model | X | | X | X | X |
| Interaction Design | Low Fidelity Static Wireframes | X | X | X | | X |
| | Medium Fidelity Static Wireframes | | | X | X | |
| | High Fidelity Static Wireframes | | | | X | |
| Visual Design | Visual Designs | | | | X | |
Table 2: UCD and User Research: When to Apply Specific User Research Practices
| Research Method | Concept | Requirements | Initial Design | Design Refinement | Post – Release |
| --- | --- | --- | --- | --- | --- |
| Focus Groups | √ | | | | |
| Expert Evaluation | | | √ | √ | |
| Exploratory (Formative) Usability Testing | √ | | √ | | |
| Validation (Summative) Usability Testing | | | | √ | √ |
| Field Research | √ | √ | | | √ |
| Task Analysis | | √ | | | √ |
| Data Mining (e.g., call center logs) | | √ | | | √ |